CrossFit INDESTRI NEWS
Get your tickets Now! great party, meet your community and it was the best party of the year last year.
INDESTRI CHRISTMAS PARTY:
DATE: DECEMBER 9TH/2016
TIME: 7PM – 2AM
WHERE: BLUE MOUNTAIN GOLF CLUB
COST: $45.00
INCLUDES FULL COURSE DINNER, DOOR PRIZES AND FREE CABS HOME FROM 10PM -2AM
DON'T DRINK AND DRIVE
Tickets are now available at the gym for purchase!
.
INDESTRI EDUCATION:

SCALING AND STIMULUS
I will be using this segment of the blog dubbed "INDESTRI EDUCATION"  to continue to help you with understanding of what we do and why.
This weeks topic is intended Stimulus and scaling (Up or Down)
I spend a lot of time programming and speaking to members why the program is set up the way it is. Understanding the stimulus of a workout is just as important as doing the workout. When we "scale" your workout due to certain factors(injury, skill level or fitness), We are always trying to match the intended stimulus of the WOD.  A "Metcon" is not intended for building strength, it is to condition the strength you have built in focus work or accessory work.
So to help you understand our thought process as coaches when scaling we need to look at the following:
The stimuli variables to consider –
Load (light – heavy)
Distance (short – long)
Speed (slow – fast)
Volume (low – high)
Movement complexity (easy – complex)
In the context of a CrossFit Workout (WOD or Metcon) most will have elements of one or more of the stimuli variables, with one being picked as the intended stimulus, but a CrossFit Workout and its intended stimulus don't need to be mutually exclusive, and so as a coach we can alter the WOD to meet whatever the chosen intended stimulus, or scale to meet the needs/ limitations of our athletes.
Taking Fran as an example (21-15-9, 95lb thrusters, pull ups)
The Rx written stimulus for Fran is to get a Phosphagen and Glycolytic energy system response. (Short and Dirty) Goal SUB 5 mins
So to take longer than 7-10 minutes is missing the intended stimulus. Once we get outside 10 minutes we are far into the Oxidative energy system and this changes the workout intention and we miss the purpose of that days work. So we scale to make sure you are moving quickly, safely and intense. This may mean swapping the pull up for: Jumping Pull ups, Burpees or ring Rows. We may scale the thruster by changing load or if technique is weak then we could move to KB swings.
But to full understand a Stimulus We can also change this workout to get an entire different stimulus by focussing on the stimuli listed above.
If the stimulus was to be prioritized to Load – you could simply increase the weight and add weight to the pull up. Given that Crossfit focuses on intensity, you could also choose to lower the rep range to maintain this intensity.
So a heavy Fran would be 9-6-3 135lb thrusters, 45lb pull ups
Say you want to prioritize for Volume – you lower the weight (or in this case scale the movement) and increase the reps so 'fat' fran would be 42-30-18, 45lb thrusters, ring rows)
If you wanted to prioritize movement complexity you'll adjust the movements so 'complex fran' would be 21-15-9 95lb clusters & muscle ups.
If you wanted to prioritize duration it would be  'pyramid fran' 21-15-9-15-21 95lb thrusters, pull ups
Hopefully this sheds some light on what we are looking at when programming and by knowing why we alter/ scale your program and just by changing the stimulus can result in several variations. So trust your coach when they scale (up or Down) so we can continue to offer a challenge to any level of athlete at any point in their training. The important aspect to continue to remember is that the scaling and modifications need to be done, we do this with the safety of the athlete as a priority.
Stouty
"be impressed by intensity, not volume" – Greg Glassman
.
2 WEEKS OF SQUAT CHALLENGE LEFT
Squats Up? Hows your hamstrings? we survived week 2 and We are on WEEK 3.. which means 25 minutes!
NOTE: If you are finding the volume is getting to be too much you are more than welcome to drop back to 15 or try to stay at 20 minutes.
REMEMBER THE ONLY REPS WE WANT ARE QUALITY REPS NOT QUANTITY
Reminder, This week and the following 2 weeks we will be testing Volume of your back squat. We have been doing heavy Squat work for a few months now and we want to test if the strength relates to muscle endurance. Mondays or Wednesdays you will see an AMRAP that will increase to 20 minutes week 2, 25 mins week 3 & 30 mins week 4. These will be BACK SQUATS at 60% of your 1 RM. we will look to see if you can increase or at least hold the rep to minute ratio as time and work increases.
IF YOU WANT REAL RESULTS.. MAKE SURE YOU ATTEND THESE CLASSES
A LEVEL FOR EVERY ATHLETE
We are going to continue to try out a system being used by some of the long term CrossFit Gyms for setting Weights and movements for classes.
COMING SOON ADDITION OF BEGINNER ATHLETE AND RX ATHLETE
IN DECEMBER WE WILL BE POSTING 4 LEVELS FOR WORK OUTS
LEVEL 1 – BEGINNER ATHLETE – TECHNIQUE & PROGRESSION FOCUS – ATHLETES 0-3 MONTHS IN IS A MUST
LEVEL 2 – FITNESS ATHLETE – TECHNIQUE AND CARDIO FOCUS WITH STARTING STRENGTH
LEVEL 3 – RX ATHLETES – PERFORM AS PRESCRIBED ON CROSSFIT.COM AND THE OPEN/COMPETITIONS
LEVEL 4 – COMPETITOR ATHLETES – THIS WILL REQUIRE EXTRA WORK, TOP LEVEL MOVEMENTS & EXTRA CASH OUT WORK
YOU WILL BE ABLE TO HAVE WORK OUTS THAT HAVE DIFFERENT LEVELS DEPENDING ON YOUR STRENGTHS, EACH LEVEL WILL HAVE ITS PURPOSE AND DEPENDING ON YOUR GOALS YOU WILL DECIDE HOW YOU PROCEED WITH EACH WORK OUT.
.
We will be introducing Competitor Group Training "Saturday Mornings at 10am"
If you're interested in being a part of the Competitor Group Training you will need to speak with Steph or Stouty to be approved to take part.  There will be certain benchmarks before you can take part in this training.
The Competitor Group Training is for RX Level Competitors.
If you're interested in preparing for the open or building the skills to be part of the Competitor Group Training, there's a great class on Friday's at 6:30pm with Coach Steph called 'Open Prep' that will help you work on the skills.
.
CONCEPT HOLIDAY CHALLENGE
A FEW OF YOU HAVE SIGNED UP TO TAKE ON THE CONCEPT 2 INC #HOLIDAYCHALLENGE
50KM, 100KM OR 200KM ON EITHER A ROWER OR SKI ERG OR COMBO OF BOTH.
I WILL BE TAKING ON THE 200KM CHALLENGE AND WILL BE OPENING THE GYM ON SATURDAY & SUNDAY AT 7:30AM FOR ANYONE WHO WANTS TO TAKE ON THE CHALLENGE. THIS DOES NOT MEAN OPEN GYM. YOU ARE HERE TO TAKE ON THE CHALLENGE OR JAY'S BOXING.
SEE DETAILS
Holiday Challenge
November 24–December 24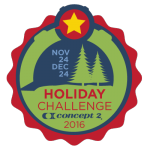 Row and ski as much as you can between American Thanksgiving and Christmas Eve. We have honorboards and downloadable certificates for everybody who reaches 50k (adaptive and kids only), 100k and 200k.
For every person who rows or skis at least 100k during the challenge (50k for adaptive athletes or athletes aged 16 or under), Concept2 will donate $.02 per kilometer (1000 meters) you row/ski to your choice of the following organizations: One Acre Fund, Global Fund for Women, Ocean Conservancy or Building Bright Futures Vermont. And once you get beyond 100k, we'll donate $.04 per kilometer rowed/skied. Our goal through this group effort is to raise a total $30,000 to support these causes. Anybody who reaches 200k and has chosen to give money to charity will receive a free Holiday Challenge pin.
CLICK BELOW TO:
.
FOCUS: 10 MINS
SNATCH (CLUSTERS) 65%/3, 70%/3, 75%/3, 80%/3
30 second clusters: Perform 1 rep, rest 30 seconds, perform next rep ECT.. Rest 3 minutes between sets.
FITNESS WILL WORK TECHNIQUE AND NOT % – SUB POWER SNATCH TO PREPARE FOR WOD
.
WOD: 13 MIN CAP
3 Rounds:
30- Power Snatch (75/55)
100- Double Unders
FITNESS: (If technique is supported to do Snatch in a Metcon)
25 – Power Snatch 55/35
If you can not do at least 20 DU unbroken move to 250 singles or a mix of both.
If technique still needs work, to match stimulus go with  24/16kg KB Swings
.
CASH OUT: 
Rx
3×25 GHD Sit ups
Fitness
Partner Glute Ham- Negatives 3×10
.
.
TUESDAY: 
FOCUS: 10 MINS
COACH REVIEWING ROWING TECHNIQUE
& GENERAL METCON WARM UP
.
WOD: Must complete all stations start spots may vary due class size
TOTAL TIME: 36 MINS
2KM ROW – 10 MIN CAP
FITNESS: 1500M – 10 MIN CAP
REST 3 MIN
ASSAULT BIKE  100/70 cal  – 10 Min Cap
FITNESS: 75/55 cal – 10 Min Cap
REST 3 MIN
SKI ERG – 2KM -10 MIN CAP
FITNESS: 1500M – 10 MIN CAP
.
.
CORE WORK: 
3-5 rds
10 Hollow Rocks
10 V-Ups
10 Tuck Ups
10 sec. Hollow Hold
.
WEDNESDAY:

FOCUS: 
MOBILITY SQUAT PREP – 20 min
Banded walking hip circles
Bare foot open lax ball –
(Bare foot 2-5 MIN DEEP SQUAT HOLD)
.
WOD: 25 min – ADJUST TIME AS NEEDED
SQUAT AMRAP WEEK 3
25 MIN AMRAP
BACK SQUATS @ 60% of 1 RM
(set this number for the 3 following weeks)
.
CASH OUT: 15 min 
Those who adjust time frame get on bike or row and start flush will others finish
MOBILITY  HAMS/GLUTES/HIPS/ANKLES
& FLUSH
.
.
THURSDAY: Oly Day
FOCUS:
Oly Lifting -%s based off of 1RM Clean
CLEAN DEADLIFT – 90% x5, 100% x5, 110% x5
.
CLEAN PULL (BK) – 80% x5, 87% x4, 95% x3
BK = Below Knee
.
CLEAN RDL – 95% x5, 102% x5, 108% x3
RDL = Russian Dead Lift
Fitness: Barbell Good Mornings
.
CASH OUT:
Extra 1: SINGLE ARM DB ROW Negatives (4X8)
Extra 2: Chin up negatives  (3X5)
Extra 3: KB Single Leg RDL (3×20)
.
.
FRIDAY: 
FOCUS:
BANDED SH.PRESS
5×10
Shoulder Stabilization work
.
WOD: 
FOR TIME:
22 DB alt Snatch 55/35
42 HSPU
62 Pull Ups
82 Push Press 75/55
102 American Kb swings 24/16
* 22 min Time Cap *
FITNESS: 
22 DB alt Snatch 35/20
42 Push Ups
62 Pull Ups (Jumping)
82 Push Press 65/45
102 Rus. Kb swings 20/12
* 22 min Time Cap *
.
CORE WORK:
Seated Stationary Sled Pulls
3x20m (Heavy)
.
.
SATURDAY:
PARTNER WOD @ 9AM
HEAVY (STRONG MAN) SMALL GYM @ 10AM
COMPETITORS CLASS @ 10AM BIG GYM
SUNDAY:
RECOVERY CLASS: 9am to 10am
Mobility and Recovery Exercises
STRENGTH & CONDITIONING: 10am-11:30am
RETURN OF THE JUGGERNAUT CYCLE
( REMINDER THIS CLASS IS 90 MINS)
WARM UP:
2 rounds of:
  5/5 ANKLE-ROLLS
40m QUAD-AND-REACH
10 CHERRY-PICKERS
40m  BROAD-JUMPS + BACK-SQUAT
Then 2:00 easy pace of CONCEPT choice
 .
STRENGTH: ACCUMULATION WEEK 1
WHEN WE FINISH THE SQUAT CYCLE WE WILL SUB IN BACK SQUAT FOR DEAD LIFTS
5X10 @ 60%
DEAD LIFT (SUMO)
SH. PRESS 
BENCH PRESS
.
CONDITIONING:
Overhead Carries
40′ Overhead carry (you pick the equipment.  Could be axle, barbell, DB's, KB's, Keg, Stone, Sandbag etc)
15-14-13-12-11-10-9-8-7-6: ASSAULT BIKE Cals between 40 ft carries
Overhead carry should be 85% to your body weight for men.  60% body weight for women.
.