Sunday
March 8, 2015
'Crossfit Indestri WOW for week of March 9th 2015'
Crossfit Open 15.2 in the books!
 Well another Friday night light success ! so many incredible accomplishments happened! limits were exceeded, we had a bunch of first pull ups and so many did better than the year before!
We as coaches and friends are so proud of everyone who comes to class and puts their best foot forward. Its amazing to see you come together and cheer each other on and support one another when things may seem impossible.
It's a family that I need in my life and I hope you feel the same!
Since we have gone another week without a costume prize, I am challenging the coaches to get dressed up next week to lead the charge!
This weeks winners are as follows:
Most Spirit Award:
This amazing lady, fought for every pull up and we could hear the cheers every time she reached the top of the bar. like most of you who got some pull ups in, these were Linda's first! and she got 3!  It was an incredible performance! Congrats Linda, you can choose between a pair of Biion Shoes or $100 gift card to idols and anchor tattoos.
Best Performance:
Although this is always impossible to choose as everyone who takes on a wod at crossfit Indestri could get this award, this week we chose 2 guys who helped each other fight through the work out. They pushed each other even though they may have not had as much time as they would like in the box due to life getting in the way, they showed up and battled together. You may have stopped to watch this performance as you could feel the respect these 2 have for one and other as they chipped away at 15.2. This week the performance goes to Chuck Mesley & Mike Jackson, well done boys!
You both will get a prize pack from Hustle Originals.
So many accomplished feats of fitness happened this week! Keep up the great work and lets see what next week has in the hopper for us.
Ript Skin Systems:
We will be getting some Ript skin system pack in the gym this week. I swear by them and in over 2 years have not ripped the skin on my hands. they are a preventative plus repair kit for ripped skin on your hands.
check them out, feel free to ask me any questions or visit their website to get more info.
Full kits will be on sale this week at $21.95 once they arrive.
Coming Up:
Bowl for kids sake:
We are still looking for some team members to bowl Wednesday march 25th at 7:30pm
let Michelle Kusiar know if you are interested.
Purple Day:
Grace for Grace:
March 26th all day at Indestri we will be doing the workout Grace and raising money for Epilepsy. We will have baked goods, silent auction items and t-shirts for sale! all proceeds will go to supporting Epilepsy. If you would like a shirt please write your size and name down on the sheet that will be posted at the front desk! we will need these asap as we need to put the order through too make sure they will be ready for the 26th.
YOGA: Schedule Change
We are changing the Saturday class to a 7:30pm on spot (working details and will make change for next week) and then we will look at adding a weekend morning class back in the end of spring if the desire is there. The evening classes have been highly attended and yoga has been a hit!
Vicki is working hard to bring you the recovery you need and the balance in your life we have been missing. For the extra $5 dollars a month where can you go wrong?
POTLUCK at Friday Night Lights
Thank you to those who have been bringing in food items for the Friday Night Lights, we will continue to supply beverages (in the fridge) and snacks but if you are looking to help out any potluck items or paleo treats are welcome!
Tip of the week: Rope Climbs
Climbing Techniques
There are three different techniques I'm going to address today, and below you can watch a video of each of these being used and see why I prefer to teach the climb with the brake-and-squat technique.  You should also climb in pants or long socks to save your legs from rope abuse.
While any of the techniques I'll explain below will allow you to climb a rope, there's only one I'm going to recommend based on speed, fast reacquisition of the rope, and energy savings.
Gym Class Technique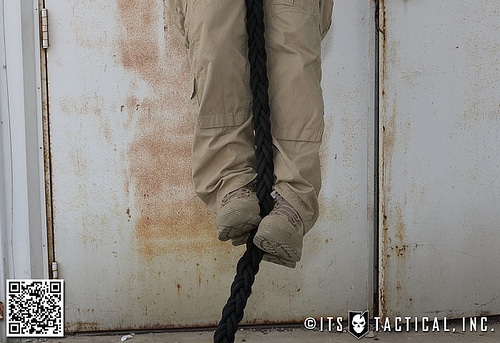 The first technique I'll address is the typical way I see people climb rope that have never been properly taught how to climb. I call it the "gym class technique," because if you're like me and went to elementary school before schools were afraid of being sued, you probably used this technique to get up the rope.
Gym class technique is where you pinch the rope between your feet, reach up with your hands to pull up on the rope, and then repeat. While you can manage to get up a rope using this method, you're working twice as hard. With any technique, the goal should be to use your legs to get up the rope without depending on upper body strength.
That's not to say upper body strength isn't important or needed to climb, it's just to say that your legs should contribute and not just hold the rope.
Brake and Squat (Marine Style)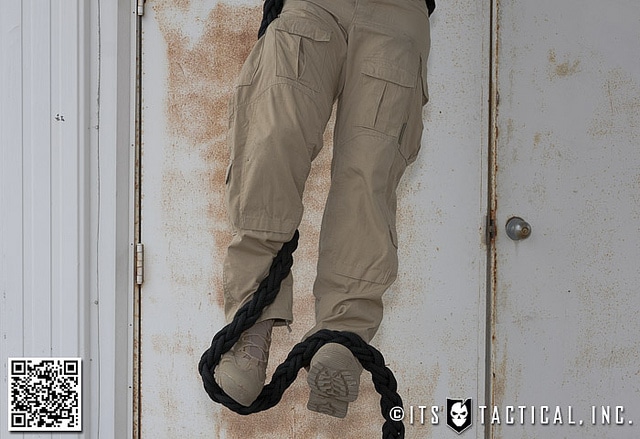 Marine-style brake and squat is what the Marines teach in boot camp; while effective, it's not a very quick technique, and it can create extra work by forcing you to reacquire the rope if you lose the wrap. With any brake and squat technique, the goal is to work your way up the rope by using your feet to put the brakes on the rope in a squatted position, and simply standing up, reaching as far up as you can, and repeating.
The technique for the Marine-style brake and squat is as follows: First you jump up with your arms extended, letting the rope either fall between your thighs or to the outside (I've seen both). From there you single wrap the rope around one of your legs and across the top of your boot. The boot of the unwrapped leg clamps down on the other boot, trapping the rope. You can now support your weight without using the power of your arms and hands.
I don't personally care for this method, because as mentioned above, you have to re-wrap the rope around your leg if it's not feeding through your legs as you climb up. This can lead to extra work.
Brake and Squat (BUD/s Style)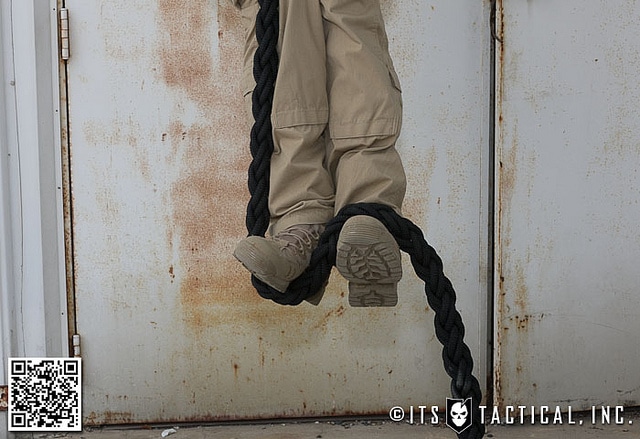 I was taught to use a very simple brake and squat technique that's extremely fast, makes it easy to reacquire the rope, and will beat any other technique for speed.
Style & technique: is to jump up to grab the rope high, letting the rope fall on the outside of a leg. Using the leg that the rope falls to, simply step on it by using the opposite foot to help. The combination of the rope falling across the top of the opposite foot and stepping on the rope with the other foot will lock the rope in place.
The idea here is to always reach up as high as you can before you "squat" your feet back up the rope and stand up to gain more height. The quickest guy I ever saw climb rope at BUD/s seriously looked like his feet would reach all the way to his chest before he'd stand up. It was truly amazing to watch.
You can stand in this position all day and take some of the work off your arms. Coming down from the rope is super simple as well–just relax the tension with your feet as you descend and the rope will flow through your feet easily.
And now for the Main Event!
The WOW for March 9th at Crossfit Indestri is:
MONDAY :
Let's see what Coach Todd has in store this week? no more overhead squats I promise :)
BUY IN: Can't you wait to get outside?
3 LAPS FORWARD
3 LAPS BACKWARDS
2 LENGTHS BURPEE BROAD JUMP
2 LENGTHS WALKING LUNGE
GROUP: Sometimes in Crossfit, negative is helpful for positive gains
3 X 3 NEGATIVE PULL-UPS (5 SEC LOWERING)
FOCUS: I'm like Oprah, always making sure you get what you came for!
3-3-3-3-3 THRUSTER (BUILD SO LAST 3 AREA APPROX 90% OF 1 RM)
WOD: 20 min AMRAP of OH Squats…. What? Too Soon? LMAO
12 AMRAP
10 KBS 24/16
10 INCH WORM PUSH-UP
10 GOBLET SQUATS 24/16
CASHOUT: Do you love this bike yet?
3 X 30 SEC ME ASSUALT BIKE
TUESDAY

BUY IN: My strength is in my Hair!
2 RDS
SAMPSON STRETCH (30 SEC/SIDE)
10 PVC Pass thru
10 SITUP
10 GOOD MORNING
10 PULL UP or RING ROW
GROUP: In Australia this is called raising the roof for 30 sec
5 EMOM (30 SEC HANDSTAND HOLD)
FOCUS: I'm not gonna do these :) it's ok to laugh it's a joke …
KB Step ups 10-10-10-10-10
WOD: I can't believe you laughed up there… you're so insensitive lol
5 RDS
5 Hand Stand Push ups
10 BAR FACING BURPEES
15 WALL BALL 20/14
CASHOUT: Get mobile, and no there's not an app for that!
LOWER BODY MOBILITY
WEDNESDAY

BUY IN: Death by OHS… Still to fresh? How bout T2B?
2 rds
10 sit ups
10 squats
10 push ups
then as a Group:
Death by KB swings (start at 3, increase by 3 every minute)
FOCUS: Have you got your first climb yet? today may be the day!
5 X 1 ROPE CLIMBS
WOD: you think its Funny? well it's Sotts!
10 EMOM
ODD: TURKISH GET-UP (2/SIDE) 12/8
EVEN: 25 DU's
REST 3 MIN
10 EMOM
ODD: 5 PULL-UPS
EVEN: KB SOTTS PRESS (3/SIDE) 12/8
CASHOUT
5 X 20 SEC OVERHEAD PLATE HOLD 45/25
THURSDAY
BUY IN: loosen up! don't be so uptight :) 
500m ROW
LAT ROLL OUT
TRICEP BAR SMASH
BANDED TRICEP STRETCH (LOW POSITION)
PEC SMASH (LACROSSE BALL)
GROUP: Crossfit Indestri, Can I put you on hold please?
3 X 10 sec  SQUAT HOLD
FOCUS: Strength Day! BenchMark Day!
1 RM FRONT SQUAT
SNATCH BALANCE
5-5-3-3-3 (75% of 1RM)
BENT OVER ROWS
10-10-10 95/55
S.S with
FACE PULLS
7-7-7
CASHOUT: Will you sleep? or just dread all night until you hit 15.3?
MOBILITY!!!!!!! (WHILE PREDICTING 15.3)
FRIDAY: Its Open Time!
15.3 is OHS, T2B and Chest to Bar Pull ups haahahahaha
FOCUS:
We will work out technique and strategy and for those who want will hit the wod!
Let's get after this week at Indestri!
Note if you can't make Friday night for judging, please make arrangements with a judge at a different time. Please don't expect the weekend coaches to score you as they are teaching classes.
looking forward to another great week!
Chris
"I got Jokes"
Stoutenburg
CrossFit Indestri "The Collingwood Original Crossfit"
200 Mountain Road, Unit 3
Collingwood, ON L9Y 4V5
705 444 0006
crossfitindestri.com