CrossFit INDESTRI NEWS
.
Congrats Crystal!
Congratulations to Crystal Brox and her partner Melissa Borsa for their 3rd place at her first CrossFit competition in Milton, ON. Crystal has had many accomplishments in her athletic career (body building, triathlons, marathons) and I know this is just 1 of many. We are proud of you! Well done.
.
INDESTRI EDUCATION:
Oly Lifting 101
Why do we Olympic lift?
First thing to address, What is Olympic Weightlifting? Olympic weightlifting is comprised of two lifts; the Snatch and the Clean & Jerk. In the snatch, a barbell is lifted from the ground to overhead in one smooth movement. In the Clean & Jerk, a barbell is lifted from the floor to the shoulder and then overhead in a locked out position. These lifts test for explosive and functional strength, while taking the whole body through it maximum range of motion. During these lifts the body is working as a whole, the body is not separated into parts and pieces. The Olympic lifts are inherently technical, dynamic and fast.
In CrossFit we teach that in order for ones fitness to be all inclusive, we must train ten general skills. As we continue to increase ones abilities in all ten skills we build elite athletes with complete physical competence. Those skills are; cardiovascular respiratory/ endurance, stamina, strength, flexibility, power, speed, coordination, agility, balance and accuracy.
Our task is now to find the BEST ways to train these skills. Olympic weightlifting addresses and trains ALL ten of these skills when used in different styles of workouts. While their primary targets are strength, flexibility, power, speed, balance and coordination, they can train all ten. Now I ask you, what other "exercise" can lay this claim? For example, you can argue that track and field focuses more on Cardiovascular respiratory/ endurance with some speed, balance and coordination, but while focusing there it eliminates and mutes 4-5 of the ten skills. This makes the Olympic lifts unique in there ability to create neurological and muscular adaptation. "They train athletes to effectively activate more muscle fibers more rapidly than through any other modality of training. "The explosiveness that results from this training is of vital necessity to every sport." (CrossFit Foundations, 2006)
In addition to Olympic lifts addressing all ten general skills, they are the essence of a functional core to extremity movement. A core to extremity movement starts with a stable core/spine and creates a wave of muscle contraction to the weaker extremities. These are the "natural" muscle recruitments patterns of our bodies. By using our bodies as a whole, each piece gets stronger. Oly Lifting takes time and patience to master and until you can master the PVC… You will never master the barbell.
If you want to Focus on the these lifts – Attend 6:30pm on Thursdays with Coach Dillon and forget about the weight you lift and master the technique
Resources on Olympic Weightlifting
www.cathletics.com
http://www.mikesgym.org/
http://weightlifting.teamusa.org/
A LEVEL FOR EVERY ATHLETE
WE WILL BE POSTING 4 LEVELSFOR WORK OUTS
LEVEL 1 – BEGINNER/TECHINQUE ATHLETE – TECHNIQUE & PROGRESSION FOCUS – ATHLETES 0-3 MONTHS MEMBERSHIP THIS IS A MUST
LEVEL 2 – PERFORMANCE ATHLETE – TECHNIQUE AND CARDIO FOCUS & BUILDING STRENGTH
LEVEL 3 – RX ATHLETES – PERFORM AS PRESCRIBED ON CROSSFIT.COM AND THE OPEN/COMPETITIONS- THIS IS THE LEVEL LISTED ON THE 1ST BLOG POST-
LEVEL 4 – COMPETITOR ATHLETES – THIS WILL REQUIRE EXTRA WORK, COMPLEX LEVEL MOVEMENTS/ HEAVIER WEIGHTS & EXTRA CASH OUT WORK. THIS IS FOR ATHLETES LOOKING TO COMPETE ONLY.
YOU WILL BE ABLE TO HAVE WORK OUTS THAT HAVE DIFFERENT LEVELS DEPENDING ON YOUR STRENGTHS, EACH LEVEL WILL HAVE ITS PURPOSE AND DEPENDING ON YOUR GOALS YOU WILL DECIDE HOW YOU PROCEED WITH EACH WORK OUT.
.
COMPETITORS
We have introduced Competitor Group Training "Saturday Mornings at 10am"
If you're interested in being a part of the Competitor Group Training you will need to speak with Steph or Stouty to be approved to take part. There will be certain benchmarks before you can take part in this training.
The Competitor Group Training is for RX Level Competitors.
OPEN PREP
If you're interested in preparing for the open or building the skills to be part of the Competitor Group Training, there's a great class on Friday's at 6:30pm with Coach Steph called 'Open Prep' that will help you work on the skills.
.
CONCEPT HOLIDAY CHALLENGE
A FEW OF YOU HAVE SIGNED UP TO TAKE ON THE CONCEPT 2 INC #HOLIDAYCHALLENGE
50KM, 100KM OR 200KM ON EITHER A ROWER OR SKI ERG OR COMBO OF BOTH.
I WILL BE TAKING ON THE 200KM CHALLENGE AND WILL BE OPENING THE GYM ON SATURDAY & SUNDAY AT 7:30AM FOR ANYONE WHO WANTS TO TAKE ON THE CHALLENGE. THIS DOES NOT MEAN OPEN GYM. YOU ARE HERE TO TAKE ON THE CHALLENGE OR JAY'S BOXING.
SEE DETAILS
Holiday Challenge
November 24–December 24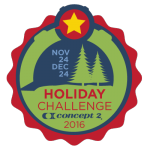 Row and ski as much as you can between American Thanksgiving and Christmas Eve. We have honorboards and downloadable certificates for everybody who reaches 50k (adaptive and kids only), 100k and 200k.
For every person who rows or skis at least 100k during the challenge (50k for adaptive athletes or athletes aged 16 or under), Concept2 will donate $.02 per kilometer (1000 meters) you row/ski to your choice of the following organizations: One Acre Fund, Global Fund for Women, Ocean Conservancy or Building Bright Futures Vermont. And once you get beyond 100k, we'll donate $.04 per kilometer rowed/skied. Our goal through this group effort is to raise a total $30,000 to support these causes. Anybody who reaches 200k and has chosen to give money to charity will receive a free Holiday Challenge pin.
CLICK BELOW TO:
.
FOCUS:
EMOM 10 MIN
1 FRONT SQUAT
1 PUSH PRESS
1 THRUSTER
**BUILD TO YOUR WORKOUTS HEAVY WEIGHT**
.
WOD: 20 Min cap
LVL3: Rx
FOR TIME: 20 MIN CAP
40/30 CAL ROW/BIKE/SKI
20 THRUSTERS 95/65
30/23 CAL
15 THRUSTERS 115/75
20/15 CAL
10 THRUSTERS 135/95
10/8 CAL
5 THRUSTER 155/115
.
LVL1: TECHNIQUE
CAL 30-20-15-10
THRUSTER WEIGHT STAYS AT 75/55 ALL ROUNDS
LVL2: FITNESS
CAL 40/30-30/23-20/15-10/8
WEIGHTS: (55/35),(65/45),(75/55),(95/65)
LVL4: COMP
CAL 40-30-20-10 (MALE & FEMALE)
WEIGHTS (115/75), (135,95), (155,115), (165/125)
.
CASH OUT: 8 MINS
.
.
TUESDAY:
WARM UP: 10 MINS
FOCUS: 12 MINS
SKILL WORK
TOES TO BAR
.
WOD PREP: 2 MINS
WOD: L3 -Rx
8 MIN AMRAP
8 TOES 2 BAR
8 OHS 95/65
.
L1-TECHNIQUE
8 KNEE RAISES
8 FS (or empty bar or pvc OHS)
L2 – FITNESS
8 L-RAISES
8 OHS 75/55
L4 – COMP
OHS 135/95
T2B
.
WOD RECOVERY:
5 MINS
.
SKILL WORK: 8 MINS
2 RDS OF TABATA
RD1 -HOLLOW ROCKS – 4MINS
NO REST DIRECT TRANSITION TO
RD2 – DU – 4 MINS
.
.
WEDNESDAY:

FOCUS: 15 mins
Pistol & Pull ups Skill Work
.
WOD:
15-12-9
Pull Ups
Weighted sit ups (25/15)
12-9-6
alt Pistols
Sit ups
9-6-3
Ring Dips
C2B
.
L1: skill progressions
15-12-9
kip Swings & Sit ups
12-9-6
Pistol progression & sit ups
9-6-3
Box Dips & Ring Rows
.
L2: Fitness
15-12-9
Pull ups (Banded) & Weighted Sit ups
12-9-6
Box Pistols & Sit ups
9-6-3
Dips & Strict pull ups
L4: Comp
15-12-9
C2B
Weighted sit ups (45/25)
12-9-6
Pistols
Sit ups
9-6-3
HSPU
MU
.
CASH OUT:
Group Mobility
.
.
THURSDAY:
FOCUS: 15 mins
Double under skill work
.
WOD: 24 mins
"The Ghost"
6 Rounds for reps of….
1 minute of Rowing (Calories)
1 minute of Burpees
1 minute of DU
1 minute of Rest
.
CASH OUT: Extra
Rope Climbs & Sled Push(20m)
3-2-1
.
.
FRIDAY:
FOCUS:
DB/KB Bulgarian Split squats with yoga ball or med ball
3×10
.
WOD:
LVL3: Rx
10 RFT
5 Power Cleans, 135lbs/95lbs
10 Walking Lunge Steps
.
L1: Technique
7RFT
5 Power cleans 65/45
10 Walking Lunges ( No Bar)
.
L2: Fitness
10 Rounds for time….
5 Power Cleans 115/75
10 Walking Lunge Steps
.
L4: Comp
10 RFT
5 Power Cleans, 155lbs/105lbs
10 Walking Lunge Steps
.
ISO WORK:
3×8
DB Hammer Curls
2×20
Banded tricep extensions
.
.
SATURDAY:
PARTNER WOD @ 9AM
HEAVY (STRONG MAN) SMALL GYM @ 10AM
COMPETITORS CLASS @ 10AM BIG GYM
SUNDAY:
RECOVERY CLASS: 9am to 10am
Mobility and Recovery Exercises
STRENGTH & CONDITIONING: 10am-11:30am
RETURN OF THE JUGGERNAUT CYCLE
( REMINDER THIS CLASS IS 90 MINS)
WARM UP:
6-4-2
SHUTTLES RUNS
12-8-4
KB SWINGS
then
20/20 LUNGES-OPEN-CHEST
15/15 LEG-SWINGS
10/10 HIP-HURDLES
.
STRENGTH: REALIZATION WEEK 3
1×5 @ 50%
1×3 @ 60%
1×1 @ 70%
AMRAP @ 65%
BACK SQUAT
SH. PRESS
BENCH PRESS
.
CONDITIONING:
15 min Cap
3 rounds of:
5 Wall Walks (nose to wall)
Rest :30
:90 Max walk Plate pinch Carries (45/25)
rest :30
.
then
15 Min
Every 3 mins 40 yard sled push/pull 150/100
.