CrossFit INDESTRI NEWS
IF YOU HAVENT GOT YOUR TICKET, GET IT NOW WE NEED FINAL NUMBERS FOR THE DINNER
Get your tickets Now! great party, meet your community and it was the best party of the year last year.
INDESTRI CHRISTMAS PARTY:
DATE: DECEMBER 9TH/2016
TIME: 7PM – 2AM
WHERE: BLUE MOUNTAIN GOLF CLUB
COST: $45.00
INCLUDES FULL COURSE DINNER, DOOR PRIZES AND FREE CABS HOME FROM 10PM -2AM
DON'T DRINK AND DRIVE
Tickets are now available at the gym for purchase!
.
INDESTRI EDUCATION:
POST/PRE WORKOUT RECOVERY
I will be using this segment of the blog dubbed "INDESTRI EDUCATION" to continue to help you with understanding of what we do and why.
This weeks topic is Post & Pre WOD RECOVERY (might be helpful :))
To stretch or not to stretch, that is the question. At least it has been lately with the science of stretching being called into question. I personally think recovery "ROM WOD" Style stretching is beneficial but when warming up a dynamic approach is much more affective. So if you are thinking touching those toes is the best way to prep for a run? It might be time to rethink that pre-workout ritual. New research suggests good old-fashioned stretching isn't all it's cracked up to be. Instead, active/ dynamic mobility might just be the key to unlocking our bodies' true potential, bringing us closer to peak performance.
Stretching the Truth
It all started back in middle school phys ed. Somewhere amidst the countless games of dodge ball and awkward locker room moments was our first encounter with static stretching. Bend down, try to touch the floor, and count to 10. Easy enough. From there we'd round out the warm-up with some rudimentary calisthenics and voilà: no injuries or soreness!
Trouble is, there's little evidence to support that scenario. That's not to say that static stretching is a bad thing, just that it may not live up to the lofty claims. For instance, in an effort to better understand the link between stretching and soreness researchers at the University of Sydney in Australia reviewed 12 different studies completed in the past 25 years. They concluded that, "stretching does not produce important reductions in muscle soreness in the days following exercise." Similarly, Robert D. Herbert, a researcher who participated in the review, also found static stretching wasn't a safeguard against injury. According to Dr. Herbert, stretchers and non-stretchers experienced about the same number of sports-related injuries.
Maximizing Your Ability
While the great stretching debate rages on, there may be a better way to bulletproof our bodies. Kelly Starrett, a former elite-level athlete, hybrid coach, physical therapist, author and CrossFit instructor, believes that opting for mobility prep over stretching is the key to hacking the body's mechanics. Therefore, instead of static stretching, Starrett favors a "movement-based integrated full-body approach, which addresses all the elements that limit movement and performance."
In the course of working with thousands of athletes in the gym and in his physical therapy practice, Starrett learned that 98 percent of orthopedic injuries are preventable, he says. The root of these injuries was a lack of understanding about "simple mechanics and the tools to improve those mechanics." Therefore, Starrett advocates at least 10 minutes of mobility work each day, no matter what, because "miss a day and you go backwards," he says.
Get to work on your mobility with these five tips sure to maximize the way your body moves.
1. Swap Out Stretching
Leave the land of static stretching in your recovery time an instead be in favor of the dynamic warm-up. By completing moves that mimic those you'll be doing in your routine, the body will be adequately prepared for whatever workout, practice or game lies ahead. Bodyweight exercises like the squat and athletic based movements like 4 point squat or lateral shuffles will elevate the heart rate while heating up the muscles and getting your joints moving effectively.
2. Get the Gear
There's a little more to this mobility thing than "reach and hold." With that in mind, prepare for movement maintenance by picking up the tools of the trade. Starrett recommends three lacrosse balls, two of which will be taped together (or opt for the many mobility WOD, Bed Bath & Beyond ect equipment if you're feeling fancy). Next, a thick resistance band is ideal. Top off your toolbox with a foam roller or four-inch (in diameter) PVC pipe.
3. Roll with It
When it comes to muscle soreness, deep tissue work can be a lifesaver — but it can also be a budget buster. so you can combine both and Save some cash by using your own mobility tools. Using Starrett's MobilityWOD video series as a guide (Youtube), try rolling away muscle soreness with the lacrosse balls and foam rollers. This type of self-induced deep tissue massage is known as self-myofascial release. Admittedly, it can be a bit torturous at first, but gritting it out can do wonders for tight muscles by breaking up scar tissue and improving circulation. Any Indestri coach can guide you through this and we address this in the Sunday mobility Class.
4. Try Traction
Having sufficiently rolled the soreness out of your muscles it's time to turn your attention to the giant rubber resistance band. This stretch band can be used in any number of ways to apply tension or traction to muscles. Start by looping the band around a squat rack or another anchor that's bolted to the ground. (Also take advantage of the crossover symetry) Facing the anchored object, place your hand up and through the open end of the band, palm facing up so the band is resting on your wrist. Lift your arm overhead and slowly pull it away from your anchor, allowing the band to gently open the space between your wrist and shoulder joints. Repeat this move with both arms.
5. Re-Assess (TEST, TEST & RE-TEST)
Maximizing mobility doesn't have to take month or years. Starrett advises clients to check mobility before and after each stretch session to assess effectiveness. If you perform a bodyweight squat before and after a round of self-massage, there should be a noticeable improvement in positioning. This feedback can then be used to address deficiencies "upstream" and "downstream" from the source of pain or tigh
.
So in conclusion, address the issues and stay on top of your mobility so before the issue gets to point of injury we are taking a proactive approach.
SUNDAY MORNING AT 9am MOBILITY CLASS – BE THERE!
.
FINAL WEEK OF SQUAT CHALLENGE
Squats Up? FOUND YOUR GLUTES AND HAMSTRINGS YET?? we survived week 3 and We are on WEEK 4.. which means THE LAST WEEK AND IS AT 30 minutes! People are still coming out to embrace the challenge!and we are excite to see you stick with this and be taking care of yourself afterwards.
NOTE: If you are finding the volume is getting to be too much you are more than welcome to drop back to 15 or try to stay at 20 minutes. There will also be a different option for the workout at 30 mins and still leg focussed.
REMEMBER THE ONLY REPS WE WANT ARE QUALITY REPS NOT QUANTITY
Reminder, This week and the following 2 weeks we will be testing Volume of your back squat. We have been doing heavy Squat work for a few months now and we want to test if the strength relates to muscle endurance. Mondays or Wednesdays you will see an AMRAP that will increase to 20 minutes week 2, 25 mins week 3 & 30 mins week 4. These will be BACK SQUATS at 60% of your 1 RM. we will look to see if you can increase or at least hold the rep to minute ratio as time and work increases.
IF YOU WANT REAL RESULTS.. MAKE SURE YOU ATTEND THESE CLASSES
A LEVEL FOR EVERY ATHLETE
STARTS THIS WEEK
STARTING THIS WEEK IN DECEMBER WE WILL BE POSTING 4 LEVELS FOR WORK OUTS
LEVEL 1 – BEGINNER/TECHINQUE ATHLETE – TECHNIQUE & PROGRESSION FOCUS – ATHLETES 0-3 MONTHS MEMBERSHIP THIS IS A MUST
LEVEL 2 – PERFORMANCE ATHLETE – TECHNIQUE AND CARDIO FOCUS & BUILDING STRENGTH
LEVEL 3 – RX ATHLETES – PERFORM AS PRESCRIBED ON CROSSFIT.COM AND THE OPEN/COMPETITIONS
LEVEL 4 – COMPETITOR ATHLETES – THIS WILL REQUIRE EXTRA WORK, COMPLEX LEVEL MOVEMENTS/ HEAVIER WEIGHTS & EXTRA CASH OUT WORK. THIS IS FOR ATHLETES LOOKING TO COMPETE ONLY.
YOU WILL BE ABLE TO HAVE WORK OUTS THAT HAVE DIFFERENT LEVELS DEPENDING ON YOUR STRENGTHS, EACH LEVEL WILL HAVE ITS PURPOSE AND DEPENDING ON YOUR GOALS YOU WILL DECIDE HOW YOU PROCEED WITH EACH WORK OUT.
.
COMPETITORS
We have introduced Competitor Group Training "Saturday Mornings at 10am"
If you're interested in being a part of the Competitor Group Training you will need to speak with Steph or Stouty to be approved to take part. There will be certain benchmarks before you can take part in this training.
The Competitor Group Training is for RX Level Competitors.
OPEN PREP
If you're interested in preparing for the open or building the skills to be part of the Competitor Group Training, there's a great class on Friday's at 6:30pm with Coach Steph called 'Open Prep' that will help you work on the skills.
.
CONCEPT HOLIDAY CHALLENGE
A FEW OF YOU HAVE SIGNED UP TO TAKE ON THE CONCEPT 2 INC #HOLIDAYCHALLENGE
50KM, 100KM OR 200KM ON EITHER A ROWER OR SKI ERG OR COMBO OF BOTH.
I WILL BE TAKING ON THE 200KM CHALLENGE AND WILL BE OPENING THE GYM ON SATURDAY & SUNDAY AT 7:30AM FOR ANYONE WHO WANTS TO TAKE ON THE CHALLENGE. THIS DOES NOT MEAN OPEN GYM. YOU ARE HERE TO TAKE ON THE CHALLENGE OR JAY'S BOXING.
SEE DETAILS
Holiday Challenge
November 24–December 24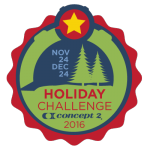 Row and ski as much as you can between American Thanksgiving and Christmas Eve. We have honorboards and downloadable certificates for everybody who reaches 50k (adaptive and kids only), 100k and 200k.
For every person who rows or skis at least 100k during the challenge (50k for adaptive athletes or athletes aged 16 or under), Concept2 will donate $.02 per kilometer (1000 meters) you row/ski to your choice of the following organizations: One Acre Fund, Global Fund for Women, Ocean Conservancy or Building Bright Futures Vermont. And once you get beyond 100k, we'll donate $.04 per kilometer rowed/skied. Our goal through this group effort is to raise a total $30,000 to support these causes. Anybody who reaches 200k and has chosen to give money to charity will receive a free Holiday Challenge pin.
CLICK BELOW TO:
.
FOCUS: WARM UP 16 MINS
MVMNT PREP – 10 MINS
10 MIN EMOM
9 WB
6 KB SWINGS
3 BURPEES
.
2 MIN WOD PREP
.
WOD: 20 Min cap
LVL3: Rx
4 RFT
21 Wall Ball Shots, 20lbs/14lbs
18 Pull Ups
15 KB Swings, 24/16 American
12 Hand release Push ups
LVL1:
18 WB 14/10
15 Ring Rows
12 KB Swings 16/12
9 Push Up/ Box push Up
LVL2:
21 WB 20/14
18 Banded Pull ups
15 KB Swings 24/16 Russian
12 Push Ups
LVL4: Competitors Only
15 Min Cap:
21 WB 20/14
18 C2B
15 American KB Swing 24/16
9 HSPU
.
CASH OUT: 8 MINS
L1: 8 MINS SKIPPING
L2: 8 MINS DU WORK
L3: 8 MIN CAP 50-100-50 UNBROKEN DU
L4: 8 MIN AMRAP 100 DU (unbroken) 20 DB Step ups 35/55
.
.
TUESDAY:
WARM UP: 10 MINS
FOCUS: 13 MINS
DB/KB Sh. Press 4×8
superset with
DB Bent Row 4×8 (same weight as press)
.
WOD PREP: 2 MINS
WOD: 20 MINS – RELEASE IN WAVES
LVL3 &4
500m Ski
50/40 Cal Bike
500m Row
.
LVL1 & 2:
250m Ski
25 cal Bike
250m Row
.
WOD RECOVERY:
5 MINS
.
CORE WORK: 10 MINS
LVL1-3
3-5rds
20 Slam balls
20 Russian Twists
20 sec HS Hold/Pike Hold
LVL4:
3 x ME Front Lever Work
3x30sec Paralette L-Sits
.
WEDNESDAY:

FOCUS:
MOBILITY SQUAT PREP – 20 min
Coach led
.
WOD: 30 min – ADJUST TIME AS NEEDED
SQUAT AMRAP WEEK 3
30 MIN AMRAP
BACK SQUATS @ 60% of 1 RM
(this is the final week)
LVL1: 40% OR AIR SQUATS BLOCKED OUT
alternative is 15/20 or 25 minutes ( Finish on Bike or row to flush if you select shorter options)
.
ALT OPTION:
12 MIN AMRAP
2-4-6-8-10-12 . . . .
Push Press
Front Rack Lunges
PICK CHALLENGING WEIGHT* Every time the bar is dropped perform 6 BAR FACING BURPEES. NO RESTING ON THE BACK!!!! *
Rest 3 minutes
12 MIN AMRAP
20 AIR SQUATS
15 BOX JUMPS 20/24
10 BURPEES
5 LAP RUN
.
CASH OUT: 10 min
Those who adjust time frame get on bike or row and start flush will others finish
MOBILITY HAMS/GLUTES/HIPS/ANKLES
& FLUSH
.
.
THURSDAY: OLY Day
FOCUS:
CLASS REVIEW SPLIT FOOTWORK
PVC SPLIT JERK BALANCE
JERK DRIVE 1@90%, 1@95%, 1@100%, 1@105% OF 1 RM JERK
LVL1 : TECHNIQUE WORK NOT PERCENTAGES
RACK JERKS (1BHN + 1FRONT) 2@ 75%, 2@77%, 2@80%, 2@82%
Take bar from racks or jerk blocks and perform 1 rep from behind the neck, lower bar to front and perform the second rep from in front.
1 BHN + 1 FRONT = 2 reps
LVL1: Working on technique not %
.
CASH OUT:
Extra 1: Bench Barbell ROW (4X6)
Extra 2: ON GROUND BACK EXTENSIONS LVL4: GHD BACK EXTENSION NEGATIVES (4X6)
Extra 3: AB Barbell ROLLOUTS (4X8)
.
.
FRIDAY: GET YOUR TICKETS TO XMAS PARTY
YOUR GONNA EARN YOUR DRINKS TODAY…
FOCUS:
10 Min EMOM
2 Clean & Jerk working up to heaviest workout weight
.
WOD:
LVL3: Rx
Part "A"
For time: 8 min cap
50 Burpee Box Jumps 24″/20″
Part "B"
For time: 8 min cap
100/70 Calories, Assault Bike
Part "C"
For time: 8 Min cap
50 Chest-to-bar Pull-ups
*Every 30 seconds do 1 Clean & Jerk.
*Part "A" use 185/135. Part "B" use 205/145. Part "C" use 225/155.
*Each workout begins with a clean & jerk.
*Rest 5 minutes plus difference of cap between workouts.
LVL1:
Part A: Burpee step ups 16/12
Part B: 60/45 Cal Row
Part C: Banded Pull Ups
LVL2:
Part A: Burpee step ups 24/20
Part B: 75/60 Cal Row
Part C: Pull Ups
LVL4: Competitors
Part A: Burpee Box Jumps 30/24
Part B: 120/85 Cal Bike
Part C: 30 MU (8 min cap)
.
CORE WORK:
TABATA
FLUTTER KICKS
LVL 4 EXTRA
TABATA SINGLE LEG RDL (1 leg per round no touch)
.
.
SATURDAY:
PARTNER WOD @ 9AM
HEAVY (STRONG MAN) SMALL GYM @ 10AM
COMPETITORS CLASS @ 10AM BIG GYM
SUNDAY:
RECOVERY CLASS: 9am to 10am
Mobility and Recovery Exercises
STRENGTH & CONDITIONING: 10am-11:30am
RETURN OF THE JUGGERNAUT CYCLE
( REMINDER THIS CLASS IS 90 MINS)
WARM UP:
COUCH-STRETCH 2:00/side
3 rounds of:
5/5 LUNGES-WALKING w/Twist
5/5 QUAD-AND-REACH
10/10 FRONT-HIGH-KICKS .
STRENGTH: INTENSIFICATION WEEK 2
WHEN WE FINISH THE SQUAT CYCLE WE WILL SUB IN BACK SQUAT FOR DEAD LIFTS
1×5 @55%
1×5 @ 62.5%
3×10 @ 67.5%
DEAD LIFT (SUMO)
SH. PRESS
BENCH PRESS
.
CONDITIONING:
10-9-8-7-6-5-4-3-2-1
Bench Press (185/115)
KB Swings (32/24)
.